Key drop boxes provide a secure and convenient way to drop off keys without face-to-face interaction. Not only do key drop boxes save time and effort for customers and employees, but they also lower the risk of lost or stolen keys. In this article, learn the benefits of key drop boxes and how to choose the right one for your specific needs.
What Are Key Drop Boxes?
A key drop box is a secure container or receptacle that accepts keys or other small items. These drop boxes offer a convenient solution allowing customers or clients to leave small items, like keys, outside regular business hours. You can usually find these receptacles in easily accessible spots outside retail stores and offices. Businesses that often make use of such containers include rental car services, hotels, and repair shops.
Types of Key Drop Boxes
Wall-mounted boxes: These are the simplest type of key drop boxes designed to be mounted on a wall or other flat surface. They typically have a single compartment and a lockable door to keep items secure.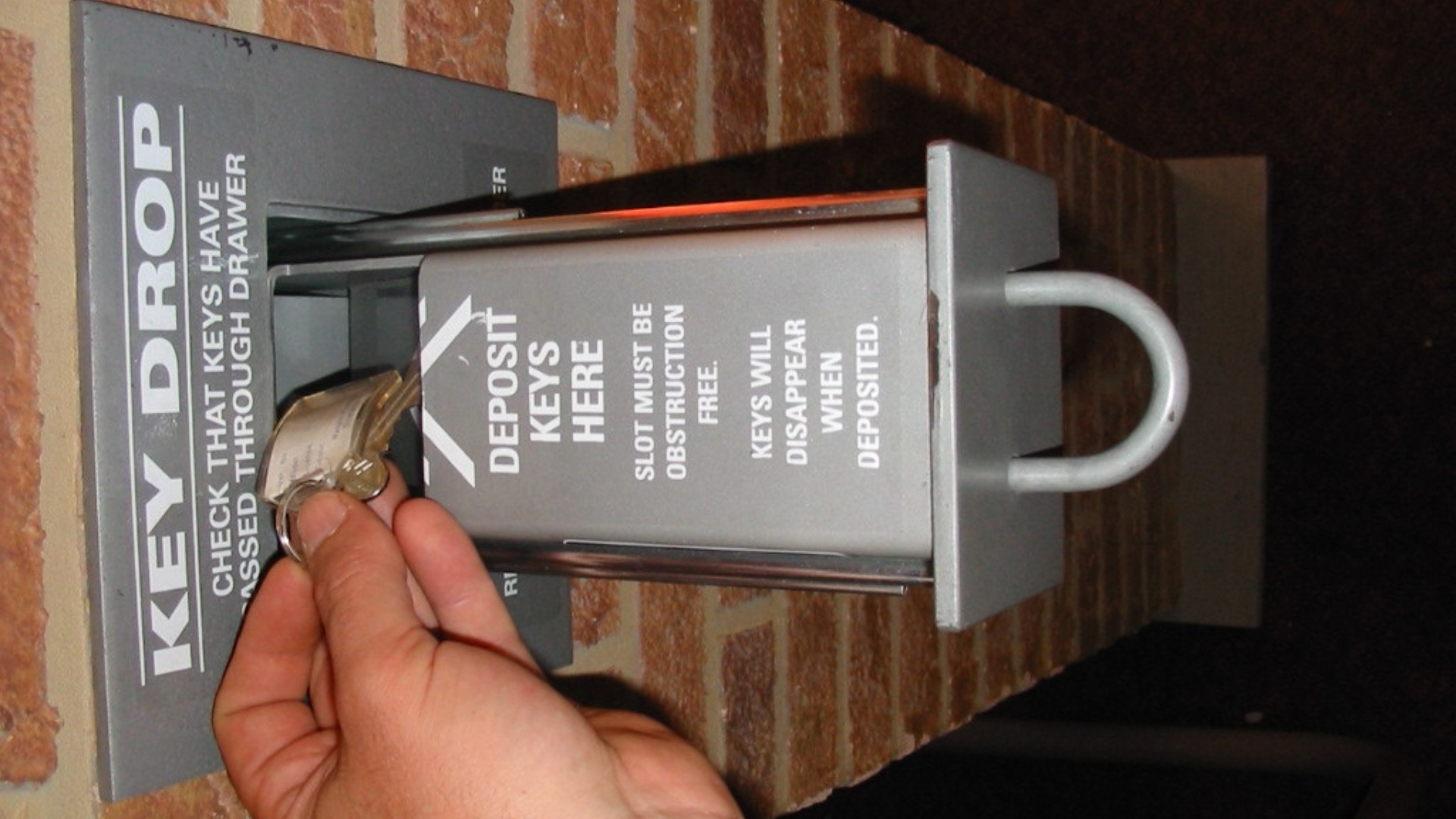 Freestanding boxes: Freestanding boxes may be the perfect solution for bigger storage needs. These larger boxes with multiple compartments are installed on the ground or a pedestal. That makes them ideal for businesses needing to accept keys or other customers' items.
Combination lock boxes: An alternative to traditional key lock boxes is a lock box with a built-in combo lock. This device is convenient for staff members as it eliminates the need for keys to access its contents.
Electronic lock boxes: For secure key keeping, many find an ideal option is using an electronic lock box. Such a product can be configured to permit access only for approved personnel.
Smart lock boxes: Technology has now made it possible to enjoy the convenience of secure key deposits using smart lock boxes. These use smart technology to allow customers to securely deposit their keys and receive notifications when their items have been retrieved.
Factors to Consider Before Purchasing One
If you own a car rental business or a hotel manager, you may find it beneficial to have key drop boxes installed. Yet, you may need to consider several factors before purchasing one from a commercial locksmith service.
Size: Size is an important consideration, as it will determine how many keys or items it can hold at once. Choose a large box to accommodate the volume of keys or items you expect to receive. Nonetheless, it should not be excessively large to occupy much space.
Security: The level of security is critical as the key drop box protects the keys and items deposited inside. Look for features such as strong, durable materials, tamper-proof locks, and advanced security measures like electronic locking systems.
Location: The location of the key drop box is also an important factor to consider. The box has to be accessible but located in a secure area that is not prone to theft or vandalism.
Design: The design of the key drop box is another factor to consider, as it should be visually appealing and blend in well with the surrounding environment.
Weather resistance: For outdoor drop boxes, it is essential to make sure they are protected from the elements. Rain, snow, and other forms of inclement weather can cause damage over time. So selecting one with adequate resistance against these conditions is essential.
Ease of use: User experience: The key drop box should provide a smooth, problem-free user experience. Clear instructions and an intuitive design will reduce the likelihood of errors and prevent confusion.
Benefits of Key Drop Boxes for Your Commercial Establishments
Convenience: Key drop boxes allow customers to drop off keys or other items outside regular business hours. That offers a convenient means for individuals to return keys or leave items at their preferred time.
Increased productivity: By providing a key drop box, businesses can increase productivity. Having a key drop box eliminates the need for staff members to be present to accept keys or other items.
Improved security: Key drop boxes are a secure way to accept keys and other items, reducing the risk of loss or theft.
Enhanced customer service: Key drop boxes offer a convenient service to customers, providing an extra level of convenience that can improve customer satisfaction.
Reduced liability: Key drop boxes provide a secure way to store and retrieve keys. Thus, they can help reduce the liability of lost or stolen keys.
Cost-effective: Key drop boxes are a cost-effective solution for businesses. They provide a reliable and practical method to deposit keys or other belongings without additional staff.
Need a drop-off or perhaps a pickup box for your business? At Sherman Oaks Lock & Safe, we commit to providing the best possible security solutions for businesses in the Sherman Oaks, LA area. Our team of commercial locksmiths offers essential services, including lock repair and installation of commercial locks. We also specialize in the sale and installation of key drop boxes. With our high-quality key drop boxes, you can be confident that your items will remain safe and secure until you are ready to retrieve them. So if you need a reliable and experienced partner to help secure your business, call us today for more details on how we can help.